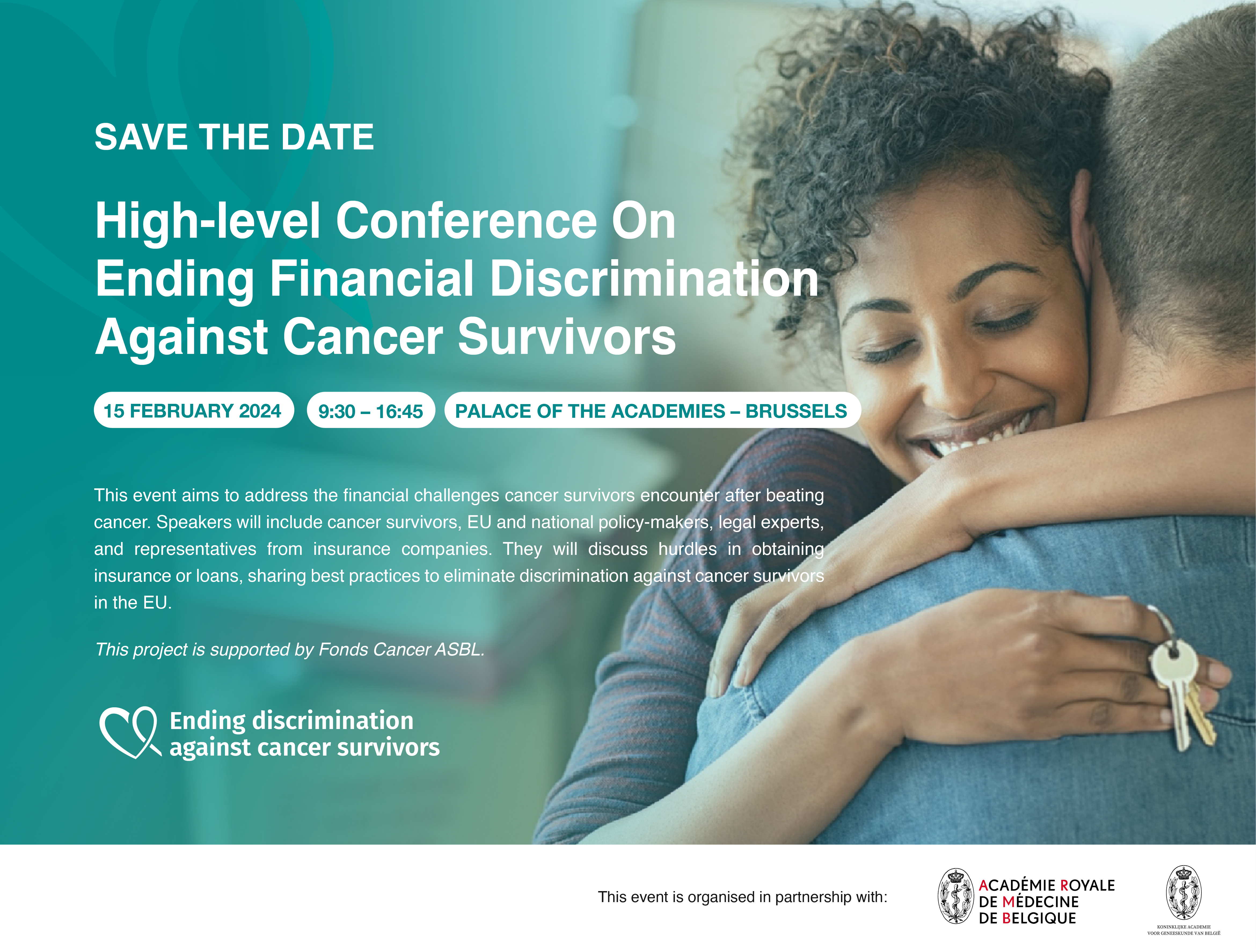 We are happy to announce that we are organising a High-Level Conference on Ending Financial Discrimination Against Cancer Survivors. This event will take place on 15 February at the Palais des Académies in Brussels. 
This event aims to bring together various stakeholders to discuss the best ways to address the discrimination cancer survivors face when trying to obtain a loan, mortgage and insurance. Policymakers from the EU and national governments who share a commitment to that cause will discuss their work and best practices to enshrine the right to be forgotten for cancer survivors into national and European legislation, in the hope of protecting the ever-growing cancer survivor population in Europe. 
The event will gather: 
Stella Kyriakides, EU Commissioner for Health and Food Safety
Mairead McGuinness, EU Commissioner for Financial Services, Financial Stability and Capital Markets Union
Frank Vandenbroucke, Belgian Ministry of Health and Social Affairs 
Pierre-Yves Dermagne, Belgian Ministry of Economy and Employment 
Prof. Christine Chomienne, Vice Chair, EU Cancer Mission 
Deirdre Clune, MEP
Kateřina Konečná, MEP
Tilly Metz, MEP
Tomislav Sokol, MEP
Dr. Csaba Dégi, President-Elect, European Cancer Organisation 
Isabelle Huet, Director, RoseUp Association France 
Wim Geluykens, Legal researcher, Kom op tegen Kanker
Pierre Reichert,  Chairman of the Executive Board of Assurances, Crédit Mutuel 
Cancer survivors 
We will share more information including a registration link in the Autumn.